The International Society for Military Ethics in Europe – EuroISME – provides a forum for the analysis, development and sharing of best practice in the area of professional military ethics, across and beyond the European defence community.
---
President's Message
Dear Members and friends of Euro-ISME,
Only a short time ago 'going to war' would usually have meant the formal declaration of a state of hostilities between States, followed by uniformed forces fighting each other on identifiable battlefields. Although many of these wars were awful in their brutality, they took place within a broadly accepted framework. Such relative certainty is now often absent, with conflicts frequently fought between regular and irregular forces, the latter often having scant knowledge of and little regard for the laws of armed conflict and humanitarian law. A battlefield can now be a physical or a virtual space and civilian populations can find themselves caught up in the horrors of war as conflicts are fought 'amongst the people'.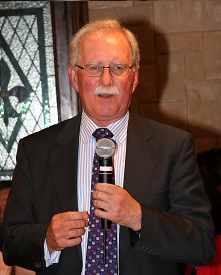 As a result, it is now almost a cliché to say that the nature of conflict is changing and becoming more complex. But within this ever changing landscape, two groups of people must still wrestle with a series of ethical and legal realities; first in deciding whether to 'go to war', then how the war should be fought and finally how we should ensure that an equitable and lasting peace is the result.
In most developed countries, the decision on whether to go to war is not one for the military, but for elected politicians. They are the people who can escalate or de-escalate tense situations before military forces become irrevocably engaged. It is politicians who set the ground rules for the war and who decide what resources will be made available to fight it. It is they who will declare victory or accept defeat when the time comes. Advisors will counsel them on the legality of the choices open to them, but the decision on whether to commit to armed conflict often has a significant ethical component.
Once war begins, the ethical complexity for the military increases exponentially. Laws divide the universe into 2 spheres, the legal and the illegal. But in war circumstances arise in the field where such clarity is simply not a realistic option. Not every situation that arises can be foreseen and the answer helpfully noted in a training manual to be memorised for use later. That is why our military forces need people who are trained in how to think, and not simply in what to think. We expect the (often) young men and women who fight on our behalf to display substantial ethical maturity beyond their years, often at times when they are cold, hungry and frightened for their lives. It is a tribute to them and their commanders that they succeed in this far more often than they fail.
Euro-ISME exists to promote the study, training and practice of military ethics. It encourages professionals in all parts of the military and academic spheres to engage in robust and constructive dialogue with each other. It invites politicians to listen to the fruits of our debates and to participate in them. We do this because it is essential for the health of our societies and for the wider world that our armed forces behave to the highest ethical standards, so that they can clearly differentiate themselves from rag tag militias, mercenaries and terrorists. It is also essential in order to ensure that those who are the innocent victims of war can look to our armed forces as protectors, not persecutors, and as the representatives of societies which value justice and peace above mindless aggression.
The education and training of all those involved in armed conflict is not an easy task. But it is an essential one and one to which we are committed.
I hope that you will join us by participating in this ongoing challenge, by attending our conferences or by joining our growing network of committed people. We ask the members of our armed forces to be prepared to sacrifice their own lives and we authorise them to take the lives of others, where this is within the laws of armed conflict. We owe it to them, their families and to the societies in which we live to ensure that they are properly equipped to undertake their challenging tasks in line with the very highest ethical standards.
Sincerely yours
John Thomas